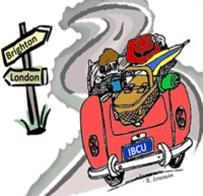 SATURDAY, June 8, 2019, 8 am





On November 14, 1896, the first London to Brighton Run was held in England to celebrate raising the speed limit from 4 to 14 mph. IBCU celebrates the 122nd anniversary of this event with its annual rally/tour across Indiana, for all British cars.


Participants will enjoy an approximate 70 mile drive along some interesting roads in central Indiana, answering challenging questions and taking photos along the way. Trophy plaques will be awarded to the top ten finishers.











June 8, 2019 - The London to Brighton Run
Start (Breakfast - 8 am, First car off - 9:30 am):
The run will start at the Moral Township Community Center (next to the fire station), 8333 Frontage Road, Fairland, IN 46126 (Exit 103 off I-74 south of Indy). A full breakfast (included in the registration!) will be available beginning around 8 am, with driver's meeting at 9 am and first car off at 9:30am.


​End:
Florence, IN inside Belterra! Expect to arrive around 2pm for early dinner/late lunch (not included in registration). The Stadium Bar & Grill is reserved from 2pm-5pm for guests running in the event.


Cost:
Early Bird (received by May 13th) - $15 per car (lunch is on your own)
Regular (after May 13th and day of run) - $25 per car (lunch is on your own)

To register for the event, complete this form and send with registration fee (payable to IBCU) to:

Greg and Susan Albers
P.O. Box 466
Zionsville, IN 46077


Questions? contact indybcu@gmail.com or call (317) 522-8260